Master the Fundamental Cooking Techniques!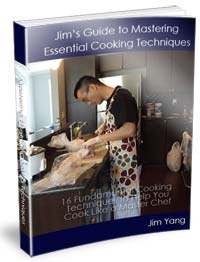 Having doubts about your cooking abilities? Or wanting to become a better cook? I have created this simple to follow cooking technique book to turn you into a great chef!
Cooking doesn't have to be difficult filled with jargon only the chefs understand themselves. This cooking techniques book shows you how to easily learn and master 16 most fundamental cooking techniques.
Presented in a simple, short, and straightforward way, so you can quickly and easily learn all 16 cooking techniques. After reading this book, you will have all the confidence and skill to cook inspiring, delicious, and healthy meals!
Here's what the book covers:

1. Basting - How to properly baste your food

2. Blanching - What is blanching, and when and how to blanche
The best way to preserve the color, texture, and flavor of your vegetables
4 simple steps to blanching

3. Braising& Stewing - The essentials of braising and stewing
4 easy steps to stewing your food

4. Cutting - cutting techniques and tips you'll use time after time
2 types of knives - which is right for you
How to grip the knife for best cutting results and

avoid injuries

The 'knuckle curling' technique to hold the food in place, avoid cutting yourself, and increase cutting speed
8 most important cutting techniques you should know

5. Kneading Dough - How to quickly knead dough
5 simple steps to kneading the perfect dough every time
3 quick ways to tell when the dough is well kneaded

6. Deep-frying - The proper deep-frying method
My secret technique to determine the oil temperature and readiness
6 tips to deep-fry perfection

7. Garlic Handling - Tips to easily peel garlic, and 3 most common ways to use garlic

8. Parboil - How to parboil and how it's different from blanching

9. Poaching - Preserve flavor, color, shape, and texture of your foods with poaching. How to control the heat while poaching.

10. Rice Cooking - Cook perfect rice every time.
3 quick steps to washing and preparing rice
The rule of thumb to measuring the amount of water
7 steps to cooking rice the 'old fashioned' way
3 immediate solutions to the most common problems cooking rice
Making rice with a rice cooker

11. Sauté -How to sauté your food and seal in the flavors.
Avoid the 1 mistake most people make when Sautéing

12. Skinning Tomatoes and Peppers - 2 methods to show you how to quickly and easily skin tomatoes and peppers.

13. Soup Stock Making - Make your own savory soup stock.
The best ingredients to use for making soup stock
The most economical way to make soup stock

14. Stir-frying - Easily master one of the most popular Chinese cooking techniques - stir-frying.
Woks - what kind is right for you
How to control the temperature for best results
Taking advantage of the smoking point of oil for best stir-fry results
3 simple guidelines to handling splashing oil
5 steps to the perfect stir-fry
15 stir-frying tips to help you prepare

tasty, delicious

stir-fries

15. Steaming - How to steam food properly.
Finding the right type of steamer to use
How to quickly 'make a steamer' if you don't have one
8 tips to steaming the

perfect

dish

16. Thickening Sauces - Learn to create sauces with different thicknesses.
How to use the 1 ingredient to thicken sauces
6 tips for preparing and using starch water
>> Click here to learn more about my Chinese Vegetarian Cookbook and the delicious recipes contained in the cookbook