A Complete Guide To Chinese Cooking Ingredients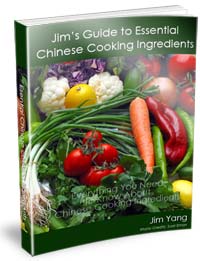 Nothing is more frustrating than being excited on trying out a new recipe, only to find out that you have no idea what half the ingredients are! I'm sure that many of you have experienced the same frustrations as I have...
That is exactly why I have created a complete guide about Chinese cooking ingredients. In this guide, you will find pictures and descriptions for every single ingredient used in my Chinese Vegetarian cookbook!
No longer will you have to pull out your hair in frustration not knowing what the ingredients are! You will have everything you need, right in front of you, so that you can have an enjoyable time cooking healthy and delicious food.

Tofu - Not sure what all the different types of tofus are? Now you'll know the difference between soft tofu, firm tofu, tofu puffs, tofu skins, and dry tofu sticks.

Seasonings - Learn the most common seasonings used to add flavor to your food.
Don't mistake dark soy sauce for light soy sauce
Understand the difference between Chinese vinegar and Regular Vinegar

Canned Vegetables - All the best canned vegetables for around a dollar.
Know the difference between bamboo shoot tips, and bamboo shot halves

Spices - Indispensable part of Chinese cooking - learn what they are and how to use them.
Why ginger and garlic are so healthy, and how to use them to improve your health
How you can tell high quality Szechuan peppercorns from 'fake' ones

Dried Ingredients - The 3 most used dried ingredients in Chinese cooking
Distinguish between the 2 types of dried fungus, and which type to use
The best way to prepare dried lily flowers

Noodles - Don't get confused with all the different kinds of noodles out there. You only need to know 3 kinds of noodles.

Fresh Vegetables - All the different types of vegetables you can use in your daily cooking.
The difference between regular green onions and Chinese green onions, and how to use them
Don't confuse white bean sprouts with Chinese bean sprouts
How to easily tell Shanghai bok choy from baby bok choy
Delicious tomato recipe for summer - prepared in less than 3 minutes

Preserved Foods - Commonly used preserved foods in Chinese cooking

Miscellaneous - This section includes spring roll wraps, wonton wraps, Konnyaku, Konnyaku noodles, and more...
>> Click here to learn more about my Chinese Vegetarian Cookbook and the delicious recipes contained in the cookbook